Here are some of the coolest trends you can bring into your home this winter to give it an exciting brand-new look!
Less is more
If you have been wanting to reduce the clutter around your home, then this is the time. Winter months often keep us indoors because of the colder weather and fewer daylight hours. So, what better use of your time is there than clearing out anything that is creating excess clutter or no longer serving its purpose? Having an open-concept floor plan is great for maximizing space and reducing any clutter and cramped corners. If you have an abundance of distracting items, like phones, televisions, tablets, and computers, relegate them to rooms designated for entertainment or work. Your bedrooms and relaxation spaces belong to you, so keep technology out of them!
Nature colors
Your home will look ready for winter when decked out in different shades of dark green, deep oranges, yellows, sky blues, or reds. Use these colors to remind yourself of an outdoor place you love. You really can't go wrong, but do pay attention to each room's lighting. In rooms that don't have a lot of natural light, keep the colors light to avoid darkening the space further. If you need inspiration, head outside and take a look at what the beautiful areas surrounding you have to offer. Notice what winter colors most appeal to you and run with it!
Bold lighting
As we traverse through winter where we see the sun less often, lighting is one of the most important components in your home. Exciting, flashy lighting fixtures are popping up everywhere, and you will love the bold statement it makes in your home this winter. You can provide lighting by hanging a unique, intricately arranged fixture from your ceiling, placing lamps that catch your eye the minute you walk through the door, or by adding a floor lamp to your bedroom or study that brightens up the room in more ways than one. Your guests will be wowed by the chic and adventurous pieces you select for your holiday decorating. Lighting is no longer just about brightening a room. It is also about creating the perfect mood. Install a dimmer switch so you can adjust the light for any occasion, whether you're lighting up the room for a holiday party or dimming the lights for a movie night with the family.
Curly wool
Much as the colors of nature are entering our homes this winter, so are natural textures. Curly wool is a soft, fluffy material that brings warmth and texture into your home. Because of its eye-appealing look, it pairs well with almost any untextured surface, including harder, colder materials like wood or metal. You can add it to your bedroom using pillows or in your living room with blankets or a footstool for a relaxed vibe. Keep things clean and elegant by sticking with a simple color palette or introduce some flair by using bold colors to stand out against a white piece of furniture. If you really want to pull out all the stops, purchase whole pieces of furniture adorned in curly wool, including chairs and couches. A little or a lot of this textured accent will impress your guests and leave them with a soft, cozy feeling during the winter.
Gold accents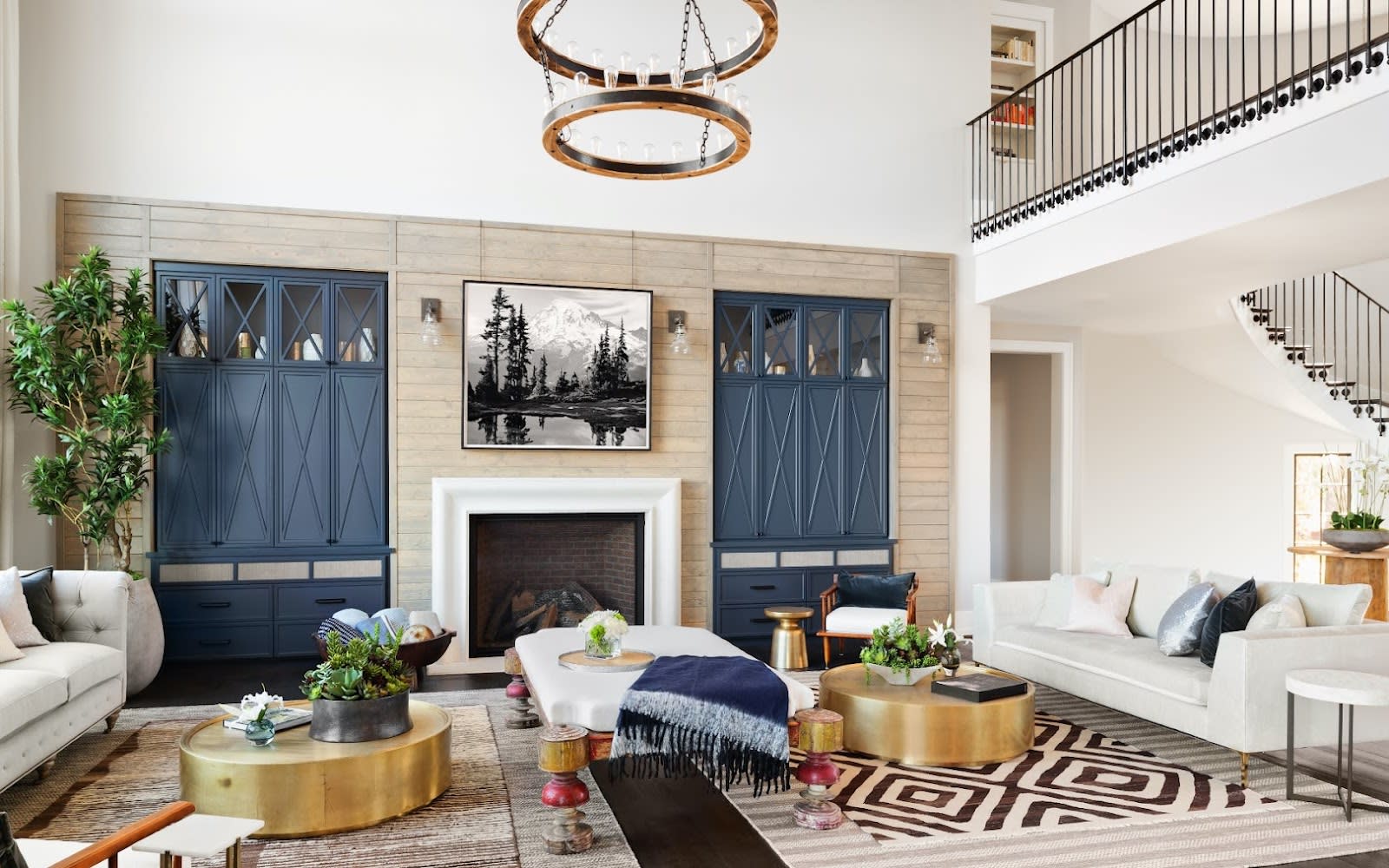 A little splash of gold never hurt anyone, and it's an effortless way to introduce an elegant style to any space. It is an ideal accent for winter as it goes well with any of those cool tones you may be bringing into your home. Even better, it also pairs nicely with warm tones, so you will be able to integrate it with any future style. This metallic can easily be used in wall decorations, such as mirrors, picture frames, or gold prints in your photos. If you would rather not have it on the wall, no worries. Gold statues, lamps, and knickknacks for your coffee table or mantel will achieve the same goal. Furniture is another way to incorporate this trend: chairs with gold arms and legs, a gold bed frame, or simply a gold-framed coffee table. The possibilities for this specific trend are endless!
Personality wall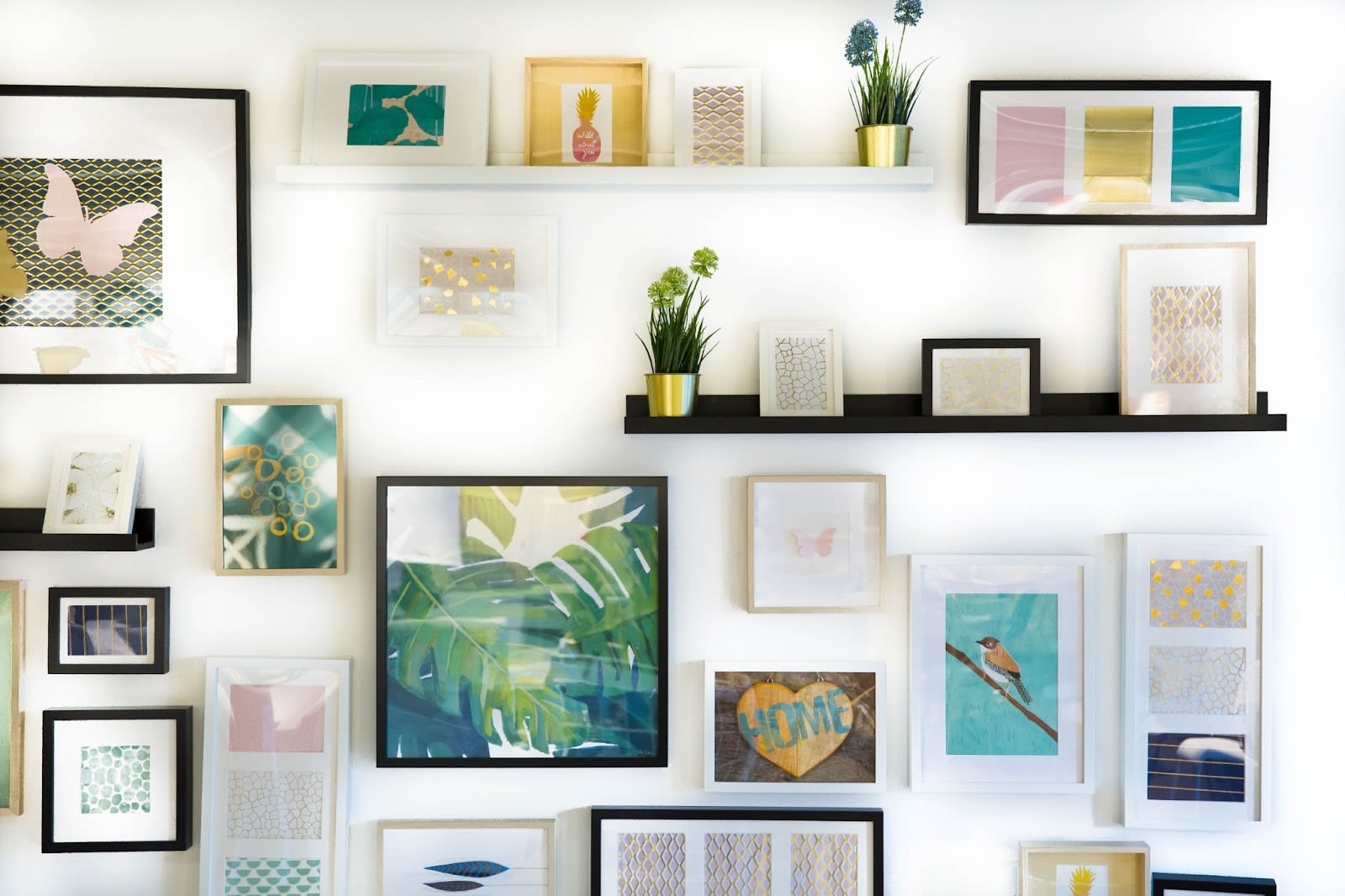 Personality walls are a great way to display your personal style and flair. Have fun painting intricate designs on your wall, or buy distinctively patterned wallpaper if painting isn't for you, to create an iconic statement wall in any room of your home. Or ditch the patterns and install shelves and wall hangings to produce a personal-themed collage that will capture your guests' attention. If you want to liven up your living room, hang an eclectic variety of items, like photos, signs, or a decorative clock, and use a color or some other element to create a cohesive theme. Your kitchen is another excellent place to incorporate this trend. Hang your utensils on the wall so you can quickly find them when needed. This will be particularly helpful with all the winter baking and cooking you are sure to be doing. A personality wall is also a fun way to personalize your children's rooms by showing off their favorite hobbies, films, TV shows, or books. No matter what you choose to do, you can't go wrong.
Plants
Regardless of the season, plants are a fantastic way to bring nature into your home. Houseplants add a pop of color to an otherwise neutral room, and they also provide health benefits. Green foliage is perfect for the winter season, but you can also decorate with plants that have flowers in vibrant colors. Poinsettias with their bright-red flowers are gorgeous and festive winter plants. Exercise caution, however, if you have pets as this plant can be toxic. You can also grow plants that have multiple purposes. A herb or small vegetable garden on your back patio will not only give you fresh ingredients to use in all your winter soups, but you will also impress your holiday guests with your delicious homemade meals. If you and the family vacation during the winter and don't have anyone to take care of plants for you, you can find authentic-looking fake plants instead. You may know they are not real, but you will have everyone else fooled into thinking you have a green thumb!
Handcrafted items
Handcrafted items are an excellent way to make your house feel homey and comfortable. Drape a woven blanket over your couch to keep you and your guests warm during the coldest days of the year. Keep your rooms organized and looking fresh with rope bags. Arrange interesting pottery on shelves or tables as conversation starters at your holiday party. These different cultural home decor items can be as modern or traditional as you wish. They also make lovely gifts if you are fretting over what to get someone for the holidays. Friends and family will be grateful that you are keeping their home in the latest trends too!
Curved furnishes
Another way nature is being integrated into design this winter is through curved furnishes. The shape reflects the world around us and the soft flowing lines you see in nature every day. Invest in a new living room couch that has a unique look and shape. Replace your old dining room table with one that has curved lines. Or you could go a different route by adding curved furnishes with a new coffee table or side tables. No matter what you decide, you will be introducing an updated, modern aesthetic that will be perfect for your winter look.
If you are treating yourself to a new house this winter and are interested in houses for sale in Gainesville, Georgia, contact Dani Burns and set up your appointment just in time for the holidays!