Lake Lanier is a beautiful reservoir in northern Georgia that provides an array of amusement on and off the water to people of all ages. There is quite a selection of charming towns nestled in this premier region. Surrounding communities offer residents individual private docks, with many neighborhoods set in community dock style, taking full advantage of their lakeside locations. Below we explore the offerings of several quaint boroughs located by/on Lake Lanier.
Gainesville

Known as the chicken capital of the world, Gainesville is located at the north end of Lake Lanier. This portion of the lake is tranquil, has less boat traffic, and prompts a relaxed lifestyle. Gainesville offers residents a nice mix of suburban charm and urban amenities that many families and young professionals cherish.

The downtown area is undergoing an expansive renovation, with the "fourth side of the square" currently being finished. The Renaissance complex is a multi-purpose development bringing residential space and two restaurants to the square. This three-story project will include retail space, the Brenau University's Lynn J. Darby School of Psychology and Adolescent Counseling, and eight condominiums, with a small park running between Renaissance and the Hall County Courthouse. In addition to Renaissance, Downtown Gainesville is home to many shops, eclectic specialty stores, restaurants, and nightlife opportunities.

Other vital community institutions include one of the best hospitals in the region, the Northeast Georgia Medical Center, the highly esteemed private Brenau University, and the family-focused and exclusive Chattahoochee Country Club. In Gainesville, you're free to lead a well-educated and peaceful life, where everything you could require is a simple stone's throw away.
Cumming

Given Cumming's proximity to Atlanta, it is the highest-priced area on Lake Lanier. The public schools are exceptional, community involvement is considerable, and many folks are relocating from Atlanta. Given the straight-shot commute to ATL and other outstanding features — it is clear why people love living in Cumming.

The city of Cumming is a bustling and vibrant community, with a plethora of events and recreation to keep inhabitants busy and amused. On any given day, you can find children and adults enjoying swim lessons, group exercises, and the Healthways SilverSneakers® Fitness Program at the Cumming Aquatic Center. This multi-use facility accommodates anything from competitive swim teams Chattahoochee Gold and Cumming Waves to cabana and party room rentals for birthday bashes. Introduce your baby to the water at six months of age via the Infant Swimming Resource or simply enjoy a relaxing swim in the outdoor leisure pool.

Head to the School Street Playhouse to take in a live play, musical, or concert complete with fine dining provided by Tam's Backstage Food and Spirits. This theatrical treasure brings quality entertainment to the Cumming community year-round. To further delight in Cumming's recreational opportunities, head to the Cumming Fairgrounds. Head to Mary Alice Park to use the picnic pavilion for your next company picnic or family reunion, or partake in one of the many annual events. Indulge in various fares and amusement rides at the Cumming Country Fair & Festival, and immerse yourself in holiday festivities at the Christmas Festival. Live music, countless attractions, tasty treats, and thrilling coasters await you at the Fairgrounds.

You and your family are sure to lead fulfilling lives in Cumming!
Dawsonville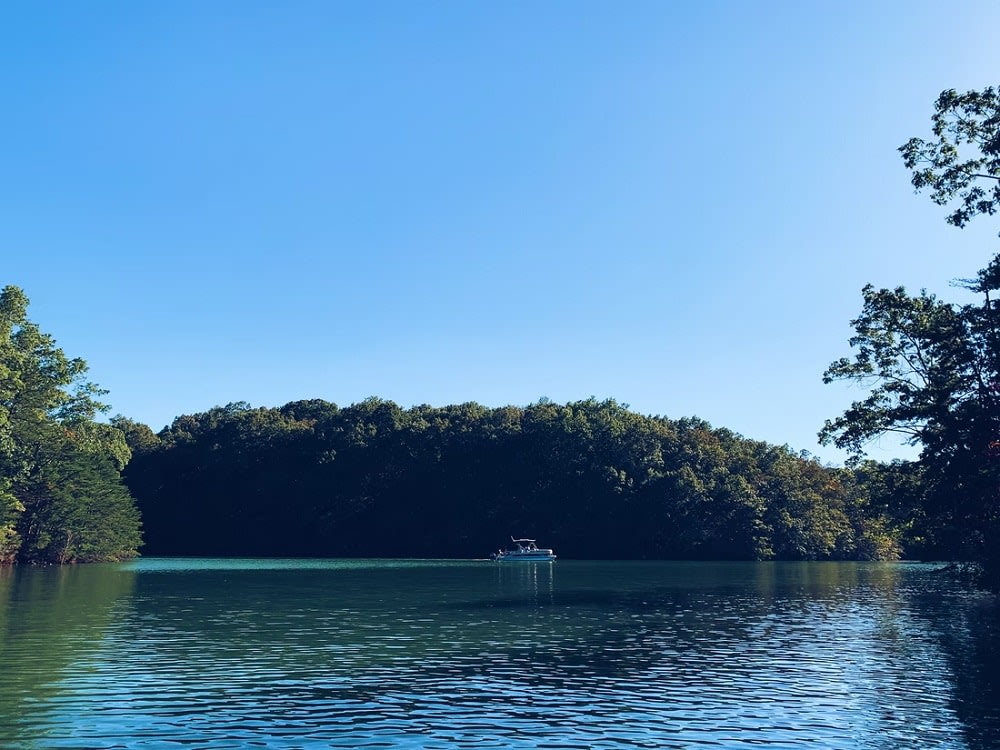 Given the significant boom in development occurring in Dawsonville, it is a very lucrative time to invest in property here. This quaint town is considered part of North Lake and maintains a tranquil ambiance. It is best known for being the gateway to the Georgia wine trail that moves through Dahlonega and further north.

One of the premier neighborhoods within Dawsonville is Chestatee. It is the only community on Lake Lanier that offers community docks and has its own golf course and clubhouse. These features give Chestatee a well-rounded, homey, and luxurious feel.

Dawsonville boasts many attractive endeavors, including outdoor recreation, arts and culture, shopping, parks, and more. The Chattahoochee-Oconee National Forests are perfect for camping, while the Etowah River and Amicalola Creek are ideal for relishing some exhilarating canoeing and kayaking. Additional activities to enjoy in the great outdoors including fishing, biking, horseback riding, and bird watching.

Once you've exhausted every possible form of outdoor recreation, enjoy some luxuries at the North Georgia Premium Outlets. This is a premium outdoor Georgian-style center featuring over 140 designer and name-brand outlet stores. Shop high-end brands, including Burberry, Coach, Nike, Gucci, and many more. With retail therapy underway, head to Caribou Coffee for a latte and Mrs. Fields for a snack.

Opportunities to indulge in lavish ventures and outdoor adventures are abundant, lending to Dawsonville's appeal.
Flowery Branch

Flowery Branch is flourishing and undergoing some serious expansion. Many families and young professionals live in this suburban town. Residents delight in Flowery Branch's historic downtown, the array of eateries, mom-and-pop shops, and marinas. It is also known for being the proud home of the Atlanta Falcons and their training facility. Football fans, foodies, and boat enthusiasts adjoin here.

Safe Harbor Hideaway Bay, Aqualand Marina, and Sunrise Cove are just a few of several marinas that will keep your boat safe and well cared for. These harbors boast incredible amenities, from clubhouses and waterside restaurants to impeccable marine services.

Flowery Branch locals adore the many marinas along with the selection of delicious restaurants available here. Curt's Country Cookin' is ideal for catching up on your kids' weekly events over a hearty breakfast. For a sampling of various international delights, head to Rico's World Kitchen. Antebellum is one of Georgia's top-rated establishments, offering an upscale modern menu perfect for your next date night.

Marinas, dining opportunities, shops, and more - Flowery Branch provides all the necessities to lead a life of leisure.
Oakwood

An adorable community with a small population, Oakwood's main draw is its breathtaking natural surroundings. This locale is smack-dab between Gainesville and Flowery Branch, making various amenities within reach. Many families reside here, taking full advantage of outdoor recreational opportunities.

Old Federal is a must-visit park and campground located on the eastern banks of Lake Lanier. This extremely popular camp hosts over 11 million visitors annually who flock here to enjoy its crystal blue waters, terrific fishing, and boating opportunities, and picturesque surroundings. In addition to fishing and boating, campers and nature adventurers partake in biking, picnicking, swimming, and water sports and activities. A massive bonus to this campground is that it is pet-friendly and offers an array of amenities, including campfire rings, grills, water hookups, showers, grills, a boat ramp, a firewood vendor, picnic shelters, and much more. Roughing it is viable, but there are many conveniences provided that make glamping possible, too!

In addition to outdoor recreation opportunities, Oakwood is home to the University of Georgia Gainesville Campus. This campus is home to over 7,500 commuter students with access to metropolitan attractions a short distance away.
Buford

Buford is a dense suburb located at the south end of the lake, offering residents a hip downtown area and excellent schools. The schools are so exceptional that Buford High School is often referred to as "The University of Buford" due to the school's outstanding educational offerings and sports facilities. Buford is a fantastic destination to raise a family and enjoy the finer things in life.

In addition to great schools for the kids, Buford is home to the lavish Lanier Islands resort, where a memorable family vacation or romantic getaway is easily attainable. Lanier Islands' 1,200 acres of stunning natural beauty will have you already booking your next stay. Indulge in golf, lavish lakeside amenities, lounge on white sandy beaches, and ride thrilling water slides at the Water Park at Margaritaville. From hiking trails to spa treatments, Lanier Islands has everything you desire in a magnificent vacation.

For a simple slice of luxury on any given day, take your yacht to Holiday Marina. Holiday provides a multitude of exceptional amenities to Lake Lanier boat owners, including an accessible fuel dock, the Singleton Marine Service Center and yacht sales, a ships store, a sailing academy, boat rentals, and more. The marina has held various celebrity boats for famous athletes and icons, including Elton John!
Once you are ready to find some beautiful real estate to call your own, give realtor Dani Burns a call. Dani's professionalism and regard for client needs will indeed aid your search for properties in any of these fabulous hidden gem towns. If you're searching for a waterfront home in the charming town of Gainesville, looking for a luxury property in Cumming, wanting to invest in real estate in Dawsonville, or are on the hunt for properties in any of Lake Lanier's hidden gem towns, Dani Burns can help you find your perfect home.